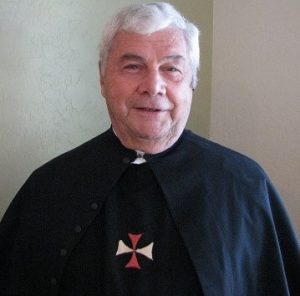 The Crosier Fathers and Brothers mourn the loss of our confrere. 
Fr. John Peter Christ, osc, was born Dec. 31, 1930, in New York City, to Peter and Charlotte (O'Halloran) Christ. He was the youngest of 11 children.
Fr. John died in hospice care in Armonk, New York, on May 4, 2021. He was 90.
He attended Our Lady of Mercy Elementary School in New York; Cardinal Hayes High School in the Bronx; Crosier House of Studies in Fort Wayne, Indiana, where he studied theology; Fordham University in the Bronx, where he earned his bachelor's and master's degrees in English as well as his PhD.
Fr. John entered the Crosier novitiate in 1960 and made his first profession of vows Aug. 28, 1961, in Hastings, Nebraska, and professed solemn vows in Fort Wayne on Aug. 28, 1964.
After ordination, Fr. John's first assignment was at St. Odilia's Parish in Shoreview, Minnesota. His subsequent assignments included serving as a college professor of English and Newman chaplain at the Edinboro University in Edinboro, Pennsylvania. He became the first Crosier pastor of St. Cyprian Parish in Riverview, Michigan. He went on to serve as pastor and associate pastor, respectively, in two other parishes: St. Anne Parish in Monroe, Michigan, and St. Andrew Parish in Rochester, Michigan. His last pastorate was at St. Dennis Parish in Royal Oak, Michigan, a position he held for 24 years.
Fr. John lived his retirement years in Armonk, New York, where he cared for two of his elder sisters until their deaths and provided assistance at the Church of St. Patrick.
He is survived by seven nephews, six great nieces and four great nephews; his friends and his Crosier confreres. He is preceded in death by his parents and ten siblings.
Fr. John's funeral Mass will be celebrated on May 14 at 10:30 a.m. (EDT) at the Church of St. Patrick in Armonk followed by a luncheon. The Mass will be preceded by a time for visitation. He will be cremated and inurned at Gate of Heaven cemetery. For those unable to attend in person, a livestream link of the visitation is available here.
Memorials are preferred to the Crosier Fathers and Brothers, P.O. Box 90428, Phoenix, AZ 85066-0428.