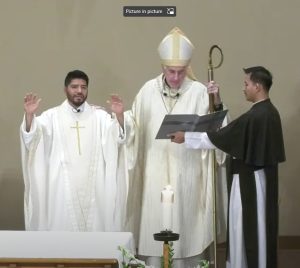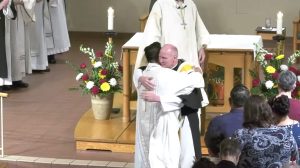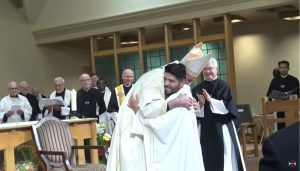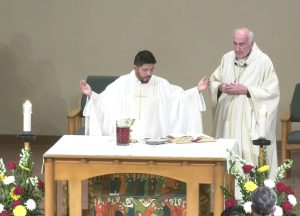 09-JULY-22 (Onamia, Minnesota) – Today, the U.S. Crosier Fathers and Brothers celebrated one of the most moving and exciting sacraments in the Catholic Church—Holy Orders. Dcn. Br. Daniel Hernández Flores, osc, 33, was ordained to the priesthood by The Most Reverend Donald Kettler, bishop for the Diocese of St. Cloud. The Mass was held at Holy Cross Priory Church in Onamia, Minnesota, in the presence of his mother, uncle, friends, community members and his Crosier confreres. Fr. Daniel's family and friends in Arizona and Mexico were able to view the ceremony via live stream.
In April, Master General Laurentius Tarpin, osc, approved then Br. Daniel's request for ordination to the priesthood. It was one year ago that Br. Daniel made his solemn profession on June 25, 2021 and was later ordained to the diaconate on Aug. 20 at the priory church by Bishop Kettler. Fr. Daniel recently completed his six-month deacon in-service as socius (assistant) to Crosier Novice Director Fr. Kasereka Kisonia Moïse, osc, as a spiritual director and in parish assistance.
Conventual Prior Tom Enneking, osc, said, "On behalf of my confreres in Phoenix and Onamia, we congratulate Fr. Daniel for having reached this moment in his journey in response to God's call in his life, and we thank God for calling him to Crosier Religious Life."
Fr. Tom went on to say, "Join me in praying for Fr. Daniel that the celebration and the years to come will be marked by a spirit of humble and fraternal service both within and outside our community."
At the reception following Mass, Fr. Daniel remarked, "I feel overwhelmed and happy at the same time. Everyone has been supportive, and I am so grateful for them. I feel honored and am looking forward to receiving this precious gift of the sacrament. Sharing my vocation with the people of God has been my dream for many years."
Fr. Daniel celebrates his Mass of Thanksgiving on Sunday, July 10 at Holy Cross Parish. He will also celebrate a First Mass at his home parish in Mexico later in July.
Fr. Daniel grew up in Tlxacala, Mexico, about two hours outside Mexico City, and learned about the Crosiers through friends and the Crosiers' Facebook page. He earned his bachelor's degree in computer science in Mexico before discerning a vocation to religious life. In 2015, he professed his first vows to the Crosier Order in Onamia and subsequently renewed them.
During his post-novitiate formation, Fr. Daniel attended St. John's University in Collegeville, Minnesota, where he graduated with a Master of Divinity last spring.