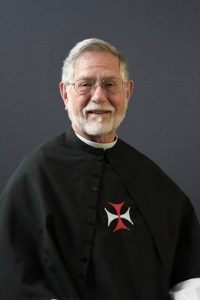 Br. John Emil Hartman, osc
1939–2021
The Crosier Fathers and Brothers mourn the loss of our confrere.

Br. John "Emil" Emil Hartman, osc, was born May 29, 1939, in Wichita, Kansas, to Charles and Edna (Armour) Hartman. He was one of 13 children.
Br. Emil died peacefully at St. Cloud Hospital in St. Cloud, Minnesota, on Nov. 27, 2021. He was 82.
He attended St. John Elementary School in Clonmel, Kansas. He participated in the Hesburgh Sabbatical Program at Catholic Theological Union in Chicago in 2008.

Br. Emil entered the Crosier novitiate in 1954 and made his first profession of vows Aug. 28, 1955, in Hastings, Nebraska; renewed his vows in 1958 in Fort Wayne, Indiana; and professed solemn vows on Aug. 28, 1961 in Hastings.

Many of his assignments and ministries centered around Crosier Religious Life as a member of the Crosier communities in Hastings; Phoenix; and Onamia, Minnesota. He also worked at the Crosier House of Studies in Fort Wayne, Indiana. Br. Emil faithfully served the Crosier Fathers and Brothers through internal ministries including as tailor, janitorial and laundry services, construction, heating and air conditioning maintenance, retreat work and in the vocation office. Br. Emil also served in the development office in Onamia from 1986 until his death, including 20 years as the Crosier Apostolate director.
In 1991, he received the 7th Annual Crosier Recognition Award.
He is survived by siblings Charles Vincent Hartman; Louise (Tom) Ast; Barbara (Gene) Giefer;
Michael (Lisa) Hartman; Gerald (Sue) Hartman; Harold Hartman; and LuAnn Hartman as well as his Crosier confreres in Onamia and Phoenix and around the world.
He was preceded in death by his parents, Edna and Charles Hartman; his sisters Edna Ann Schauf; Mary Ellen Vanhorn; Elizabeth and Christine Hartman; and his brothers Everett and Robert Hartman; brother-in-law Ernie Schauf; and sisters-in-law Dreda and Marlene Hartman.

The Mass of Christian Burial for Br. Emil will take place at 10 a.m. Saturday, Dec. 4, at the Crosier Priory Church in Onamia, Minnesota, with vigil and visiting beforehand. A luncheon will follow. Burial will be at the priory cemetery.
Memorials are preferred to the Crosier Fathers and Brothers, Box 500, Onamia, MN 56359-0500.

Conventual Priory of the Holy Cross
P.O. Box 90428
Phoenix, AZ 85066-0428